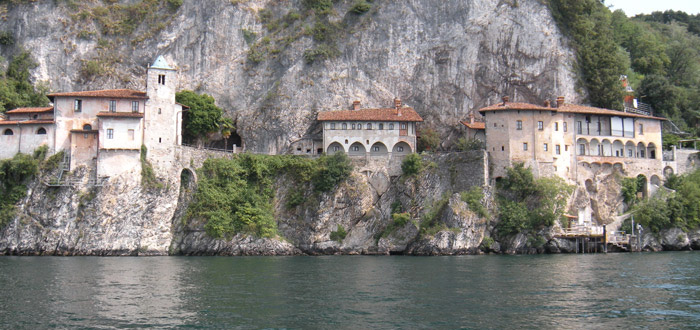 About a hundred meters from our restaurant, you can find the hermitage of St. Caterina del Sasso, a monastery on a cliff on the Lake Maggiore, whose water in this place are 313 meters deep. The hermitage was build during the Middle Ages and there, the blessed Alberto, from the Family Besozzi of Arolo, found shelter, thanks to a vow expressed during a shipwreck that took him in front of the cave. The cave was the centre of his ascetic existence in 1170.
Alberto saved the people of Arolo from the Black Death and built a reliquary like the one which in the Mount Sinai contained the remains of St. Catherine of Alexandria. In 1205 Alberto died and was buried in the rock, next to St. Caterina chapel. The hermitage became the destination of many pilgrimages and between 1230 and 1250 some Dominican friars transformed it into a monastery.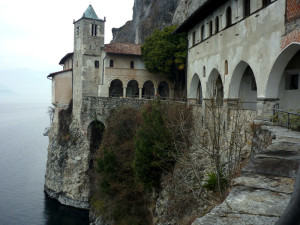 Around 1270 the chapel of Santa Maria Nova was built and after that, also a little church in honor of St. Nicola, the Dominican gave everything to the Ambrosian Heremits. Around 1450 other buildings were added at the monastery. In 1770 the monastery was closed, like other convents and started to decay.
It was only around the end of 1970 that restoration works started. In march 1992, this works brought to light some frescoes from the 1300 that weren't known before. In 1986 the Dominican retuned at the hermitage and since then St. Caterina has been a place of spirituality.